This is a traditional dinning in China, people sitting around a round table with a Lazy Susan turntable in the middle, dishes are shared communally. Today my father's side of the family came to visit us, four generations in one house, we enjoyed a family dinner together.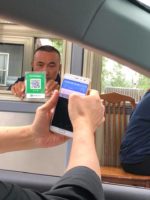 A park not far from home, most of the visitors are local residents like us. This place is next to the Yuquanshan Mountain, the resorts for senior Chinese government officials.
Chinese Super League! Guo'an, Guo'an, Beijing Guo'an!